Frequently Asked Questions
Products
We have many customers ask us this question and, indeed, have visited customers only to see that they have managed to fit their Procart filters back to front. So, this is not a stupid question and you are not alone in being unsure which is the front and which is the back of these concertina filters.
Our standard white, Procart and Procart I filter is fitted with the flatter side facing into your spray booth therefore the deeper folded 'V' section is the back of the filter. The diagram below shows this for you and it also demonstrates how the Procart filter works and how it holds onto the overspray or dust that you produce. The overspray enters the filter through the hole on the front and is drawn into the deep 'V' section. As the air circulates within this area the paint is absorbed by the cardboard and held whilst the air exits the filter via the offset hole on side of the 'V'.

If you have a Procart H, Procart HS or a Procart M2 that are constructed with a fibre layer, then this media should be installed facing the back as it is designed to act as a secondary level of filtration.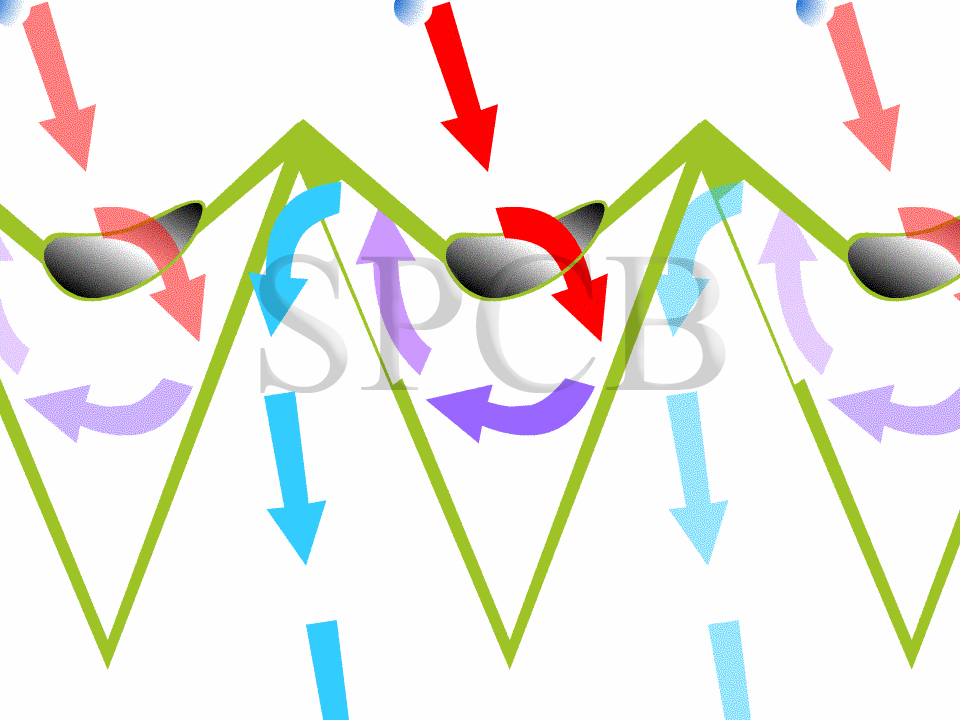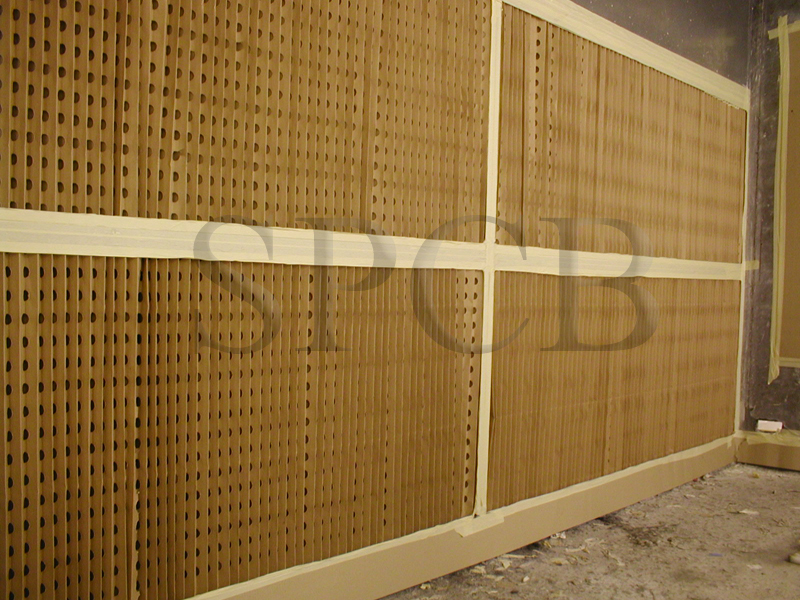 Procart H installed in a spray booth

There is a lot of talk about bacteria and a lot of scare stories about bacteria hiding within the water of your spray booth. We have found that many chemical companies use the word bacteria in order to frighten people into buying a range of products that probably aren't necessary. We have never done that and we will never do that. We prefer to give honest information and advice.
The first thing to remember is that bacteria is everywhere; its on every surface we touch, on everything we eat and, without it, we wouldn't live a very healthy life. So, it is harmful bacteria we need to be careful with not just bacteria.
The water within your spray booth will obviously contain bacteria but does it contain bacteria that could harm your workforce? There is always a very, very slim chance that harmful bacteria could be present which is why we tell our customers that, at the very least, they should be adding a biocide (Probio) to their booth water. PROBIO should be added to the booth water on a regular basis and will kill bacteria that could, potentially, be harmful.
In addition to our Probio biocide, we have additional treatment options for your booth water ranging from keeping the paint soft (no blockages) to a number of choices that allow you to remove all of the paint but keeping your water. This also means that you will never have to dispose of your booth water.
If you would like further information or advice then please CONTACT US and we will be only too happy to help.

What you do with the water within a wet spray booth has always caused people issues however this need not be the case. You have two main options open to you; you can either pay to have the water pumped from your water tank or you can treat the water which will allow you to easily remove the sludge thus keeping your booth water.
Should you decide to dispose of the water then a local company will come to you and remove the water and most of the sludge. However, in between disposals, you should be treating the water with a biocide to kill any potentially harmful bacteria.

We feel the better option is to treat the water, with our PROCO range of products, which will enable you to remove the paint/sludge from your spray booth. This means that you are greatly reducing disposal costs, reducing maintenance as the paint/sludge is kept soft therefore reducing blockages, and not wasting water.
Our products can be matched with your requirements so that you are having the best treatment to meet your needs and your budget.
Please CONTACT US if you would like any further information or assistance.

With all our fibreglass filtration products there is a back and a front. It may not always be obvious, but it is important that the product is fitted correctly so that you are getting the most efficient and effective filtration.
Our PROFIBRE rolls are coloured green and white and it is the green side that faces into the spray booth therefore it is this face that the overspray hits. If you are using our specialist PROPORA filter, then it is the purple side that faces into the spray area.
Both these filters are 'progressively built' which means that the fibres are closer together the deeper into the filter you go. So, the fibres are closer together at the back of the filter than they are at the front. This is so that the larger overspray particles are held on the front of the filter whilst the smaller particles are held towards the back. If the filter is fitted, back to front, then it will block very quickly.
I doesn't matter which of the spray booth filters, from our Procart range, that you are installing into your booth, they are all installed in the same way.
The first thing that you must do is know which is the front of your filter; our standard Procart B is white on the front and brown on the back therefore the white faces into your booth so this is the side that faces the sprayer. The rest of our booth filters have the fibre on the back so, again, it is the cardboard that faces into the spray booth.
Once this has been decided then you need to measure the width of your booth and cut the Procart to size. The minimum number of folds, per metre, is 26 and the maximum around 32. This means that for every 1-metre of spray booth width you want to count between 26-32 folds on your filter. For example, if your booth measures 3-metres then you should count 3 x 26-32 folds (78-96 folds), plus an extra couple of folds at each end to hold the filter in place.
Delivery
Providing that the goods you have ordered are in stock then we aim to dispatch orders within 1 working day. Orders are normally sent on a next day service with a few exceptions such as palleted goods and a delivery address in some parts of the Highlands and offshore.
Many orders are with our customers the following working day, especially if the order is placed before midday. If you choose our 'express' despatch option, then your order is treated as urgent and it will be sent at the earliest possible time.

However you place your order, either by telephone, email or directly on our website we will inform you, as soon as possible, if your goods are not in stock and when they will be available
All of our orders are sent with professional courier companies and are tracked. You will be informed when your consignment leaves us therefore the delivery should be with you within 1-2 working days. If you have not received your order within this time, then please let us know.
Whilst we check on despatched orders every day, no system is perfect, so we may not be aware that your delivery is late. The most important thing is that we know your delivery has not been made so that we can resolve any issues and have your order with you as soon as possible.
We can be contacted by telephone on 01673 895130 or use our CONTACT US page.
Delivery Costs to Northern Ireland and the Republic of Ireland
Delivery to Northern Ireland and the Republic of Ireland will vary depending on the weight and dimensions of your order. We cannot quote this exactly in advance and so our website delivery costs have been calaulated based on our assumptions.
If you feel that the costs may be higher andyour order is small, we may be able to save costs but this would be quoted over the telephone when we know what you are planning to order.
Please contact us for further information.

Republic of Ireland - Fees and Duties

We do not charge VAT on orders to the Republic of Ireland. However, since Brexit, there may be duties, VAT and fees payable to the courier on delivery.
We are not able to quote these fees in advance. However, if we know what you will be ordering, then we will be able to give you an estimate based on the weight and dimensions of your order.
Please contact us for further information.

Our standard delivery rate is £10.00 per order. This covers the packaging, paperwork and the actual delivery to your chosen delivery address. This charge is for England, Wales and Scotland with an additional charge for some Highland and Central London locations as well and Northern Ireland and islands.
Given that many of our products are either heavy, bulky, or liquids there can be additional charges depending upon the volume of goods ordered.
Your delivery charge will be confirmed during the check-out process and BEFORE you are asked to pay for anything. If you would like a confirmed delivery charge before you order, then please just call or contact us via our CONTACT US page.

It is very important to inspect your delivery before accepting it from the courier. If it is damaged or parts are missing, then you can refuse the delivery.
If this is not possible at the time, then any damage must be reported to us within 5 days so that we can investigate and arrange a replacement and we may ask for photos to help with any potential claim we may have to make.
The most important thing for us is that you have the goods you ordered and, in the condition, that you expect.
No professional courier company should leave an item, without a signature or receivers name, unless they have instructions to do so. The courier companies that we use are happy to leave an item without a signature however they will only do so if they have an instruction telling them where or with whom the items can be left. This is not to make your life awkward, as couriers want to deliver items on their first visit, but to ensure the safety of the item.
When ordering, you can request a different delivery address to the invoice address which could mean delivery to a place of work to a friend or family member. Alternatively, before final payment, you can leave details of a safe place where your items can be left should there be nobody to accept delivery. This could be somewhere like your porch, patio, garage, behind bins or at a neighbouring property. Leaving a note for the courier does not guarantee that they will leave your order so please give some instructions whilst ordering even if you think that someone will be available as it can just make the delivery process so much easier.

Ordering
You can order either by telephone, email or directly on this website. You can decide which is the easiest and most convenient way for you for you to place your order.
If you are an established customer or have an account with us, then you can email your order together with a Purchase Order number. You will receive confirmation of receipt of your order and an estimated delivery date.
We are more than happy to set-up a trade or credit account for you if you are going to be a regular customer.
You will need to complete an application form and, once established, your account will change your payment terms to 30 days EOM. Your account will also allow you to log-in to this website and place your orders using a Purchase Order number.

If you place your order via this website then, once the ordering process is complete, you will receive an automatic order confirmation.

If your order is placed over the telephone or by email then the order confirmation will be sent once the order details have been entered onto our system. You will also receive a confirmation when your order is despatched together with a receipt or invoice.

Different customers use purchase order numbers in different ways. Some insist that a number is used for every order placed and others only when an order is placed on account.
For either way, we are happy to take an order number and it will be shown on the appropriate paperwork including invoices, statements, receipts and delivery notes. If you are placing an order using your credit account, then we will insist on an order number before we despatch goods.

Payments
You can pay for your order by PayPal or most types of Credit or Debit cards with orders placed via the telephone or on this website. We can also issue a Proforma invoice and will accept payment by bank transfer or cheque.
If you have an account with us, then you will be invoiced with terms of 30EOM with final payment accepted by any of the above methods.
For orders placed on the website then, as soon as your order is complete, you will be issued with a receipt by email.
For all other orders your receipt will be sent once payment has been confirmed. For credit accounts, you will receive monthly statements showing your order and payment history.

Other
From time to time, we send news and special offer discounts and voucher codes to our customers. These are sent by email to customers who have given us their email address and opted in to the newsletters when placing an order, if sending feedback, requesting that their email address is added to our marketing list or by contacting us separately to make such a request.
These email offers are entirely optional and customers can opt out at any time. We do not send contact information to any third party.
If you are not on our marketing list currently and would like to be, please contact us.
We are here to help with your production and resolve issue. We will make recommendations based upon the information you give us, our experience, conversations and are happy to visit you if it is going to help resolve any issues and ensure that you are using the best products and have the best process in place.